A little about me and the history of the drawings library
Hello all,
It is my hope you'll find this collection of drawings useful, informative, and, even, inspiring. I've worked in the solar industry for more than 30 years, beginning with my own renewable energy business near Ogden, Utah. Later, in 2008, I was able to join HTP (Heat Transfer Products in Massachusetts), and launch the company's solar division, which was a natural fit with HTP's innovative and ground-breaking line of boilers and tanks.
In later years, as National Solar Product Manager for HTP, I moved into training full time throughout United States. Among HTP's expansion into solar thermal was a new manufacturing component that built flat-plate solar panels, an endeavor in which I was active in growing and training.
Today I'm with Peterson Plumbing, which has five locations throughout Utah. Like many plumbing businesses, Peterson's is growing its presence in hydronic and radiant floor heating, as well as snow melt. This isn't exactly a young technology, but more and more customers are asking for it, and plumbers are trying to adjust their methods to something that looks like plumbing, but works a bit differently.
I still do many solar thermal designs for customers wanting to heat their new radiant floors with the sun.
---
More background:
I started in the mid 1990s with a solar business I ran out of my home. For several years I worked at a computer in a spare basement bedroom. In one of the major milestones of my career, I moved to the upstairs dining room, with a desk for me and another for my wife Janelle. Eventually I was able to quit my day job. Shying away from a name like Rod's Solar Stuff, we came up with a nice pun we felt reflected the direction of our business: In Hot Water Heat & Power.
I drafted my first solar designs, using the vacuum tube panels developed by Thermo Technologies. The high-performing Thermomax collectors are comprised of vacuum tubes, otherwise known as heat pipes. I am indebted to and have such respect for Fariborz Mahjouri, PhD, PE, who developed this technology. He was a great teacher and inspiration. Dr. Mahjouri is CEO of Aurora Energy, Inc., in Columbia, MD, and continues his innovative work.
We began in 2000 to expand the business with the construction of a stone, low-energy building to serve as headquarters and shop.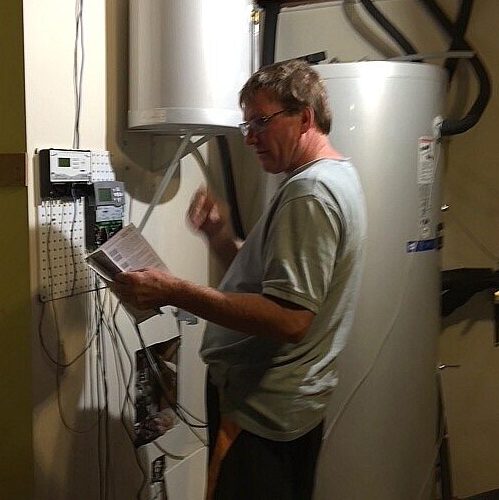 In Hot Water Heat & Power crews traveled widely to complete installations of solar and a variety of other renewable technologies, such as micro-hydro, wind, and solar electric. We also designed and installed solar-assisted radiant floor and domestic hot water systems. Many, many of our dreams lived in that building. But life brings, um, adventures. IHW closed in 2008 (wait, wasn't that a significant year or something?) I moved on to a new period of tremendous growth and learning at HTP.
In my current home, built in 1955, I've installed pipe for radiant floor by removing ceilings in the basement to staple in the pex. Plus, I've added hot water radiators in rooms where I couldn't reach the underfloor. My newest project is installing hot-water collectors that will serve as a roof for a yet-to-be-built green house.
In between all that, we're uploading this website with what seems like countless drawings of designs for the many varieties of solar installations I've created. Please enjoy.
Rod Hyatt
You can contact me by emailing rodhyatt1@gmail.com, or by filling out the form below. 168 S 100 W, Smithfield, UT 84335